TOTT 2013 | 2014 | 2015
Past Top Off The Trop Dates and Attendance:
Summary of Top Off The Trop 2014
1) We were a big part of the 28,000 + at the Trop last night. That is something to be proud of and I do believe a lot of that success was in the night we picked and some luck. The rain out in Baltimore gave us a Price v Sabathia match up (which certainly didn't turn out the way we wanted). We also had the fact that many kids were out of school tomorrow which was a positive. Either way I think the Rays must have sold at least 6,000 single game tickets in the last 10 days to this game and I would like to think that even if they weren't Top Off The Trop tickets, that we had a hand in creating some demand.
I will be posting a list soon of all the groups that were involved but all I can say is that I was thrilled and humbled by the support. What a great day. We sold about 2200 tickets which was more than our first effort. 4,000 (our goal) would have brought a surprise sellout but I'm not frowning at 28,000 on a Thursday. I know for a fact too that many fans used their Flex Pack tickets to attend this game or bought single game tickets outside of our "group" ticket offer for Top Off The Trop.
2) Don't let Yankees fans persuade you that last night was anything but your typical Yankee crowd at the Trop. That's all it was. It was the same number of Yankee fans at any prime time Rays v Yankee game. It just was great because it wasn't weekend game. My take is always that opposing fans are always welcome at the Trop as long as they are respectful. Florida (and specifically St Pete/Tampa) has always enjoyed a pretty special connection with New York and of course that is going to show in these games. But all in all it was the same number of Yankee fans that were at Game 162 and the one Yankee v Rays game that sold out last year. Rays fans had little or nothing to cheer about last night and at times Yankee fans sounded bigger than the 5-6k of them that were there. I started to see a lot of negative spewing from Yankee fans on Twitter and I think it's important for any "real" conversation to have some context.
As I pointed out in a previous blog a Yankees – Rays game is no "slam dunk" when it comes to attendance. Of the 9 Yankee games at the Trop last year (6 of which being Fri, Sat or Sun games) only 2 had more fans than last night's 28k. Only one sold out. In fact the average game missed a sellout by 10,600 tickets. Last night was not a typical night at the Trop. It was a fantastic crowd.
Also tonight's attendance will be telling if it is about the same as Thursday night (or maybe even a little less). (Friday ended up 2,000 less at 26k and change but also up against a home Lightning Playoff game)
3) This thing has legs: Last night we got a few second on Sun Sports with Kelly Nash. She's personally excited to see what "we" are doing. After basically being panned as a failure last year by the media I avoided them to a degree. Media exposure wasn't selling tickets, it was the personal reach of folks like K&S Wholesale Tile's Keith Lisenko and Ferman Auto Group's Debby Loper & friends. Also my life has been crazy and I really didn't have the time. Having said that the exposure on Sun Sports was great. We gained new followers, it reinforced what we are doing and it acknowledged our effort. As I've said countless times probably the greatest thing about Top Off The Trop is that our effort is quantifiable. We know exactly how many people attended on our offer and I hope we get to do it again. People are also getting familiar with what we are about. People like the St. Pete Chamber were on board and made a real effort to help us out. It felt amazing.
Summary of Top Off The Trop 2013
In 2013 with just 45 days leading into a Wednesday night game against the Rangers on September 13, 2013 I launched "Top Off The Trop." What was Top Off? Well it was a call to action among small and medium Bay Area businesses to give the Rays a surprise sellout. I was inspired at the time by by some comments made by ESPN's Bob Ryan (from the Boston Globe) and was tired of sitting on the sideline of our Stadium's "Attendance Challenge."
On 9/18 we brought 2000 folks to the Rays – Rangers game under our "Top Off The Trop" campaign (Wednesday Night Baseball). Attendance was 4,041 greater than the previous night and 3140 greater than the average of the other three games in the series. While our goal realistically was hoping to bring 5,000 + fans to the game we were thrilled that so many got on board.
Attendance for the Rangers Series: 

Monday – 10,724

Tuesday – 10,786

Wednesday (TOTT) – 14,827 

Thursday — 13,550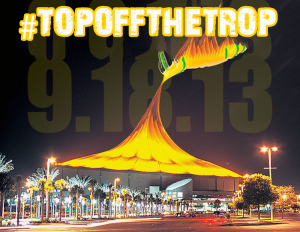 Who supported Top Off The Trop?
Automotive: Moore & Scarry (Advertising), Friendly Kia, Hyundai of New Port Richey, Ferman Automotive Group, Morgan Auto Group (Toyota of Tampa Bay / Brandon Honda), Mercedes-Benz of Tampa, Gator Ford, Jerry Ulm Chrysler-Dodge-Jeep, Stadium Toyota (Parks Auto Group), Pinnacle Automotive Hospitality, JM&A Services, Titan Dealer Services, Dealer Tag Agency
Banking: BB&T, US AmeriBank, Northern Trust, PNC Bank, Raymond James Bank, Bank of Tampa
Other: Tires Plus, K&S Wholesale Tile, Lake Gibson High School, Simple Work Comp, Carmel Cafe, Metis Property Group, Baystar Restaurant Group, Assurant, B.E.A.R, PSCU, Florida Hospital Wesley Chapel, Cassidy Turley, Privateers (Belleair), Shumaker, Loop & Kendrick, Integrity Therapy Solutions, Spring Engineering, Lykes Insurance, CCF&N, LS & Company, Triad Cleaning Solutions, Dale Carnegie Training, Bayshore Solutions, Ferg's Sports Bar, Creative Sign Designs, Chacka Marketing, PennyMac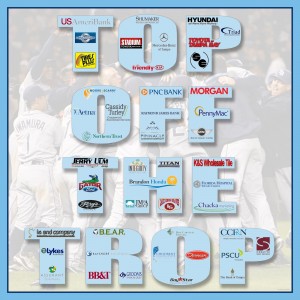 Check out our old Top Off The Trop Blog for a "real time" history of our inaugural event http://topoffthetrop.blogspot.com/